Sometimes I want to shout: "be hell, either! If! Any anything! ". I do not need the reflection of me. I need you! We are very different, I want to get in touch with you, what you are.
You're so long studied all please you now a thousand persons. One of them is mine. I like it, but I prefer it to feel for yourself, and not to see.
You complain that no matter what no strength. While he spends the last force that zarâdilo and happy you-Tu-like-me ideal you-your daughter-mom or someone, but not you-what-you-are.
Your nervous system is not powered by strangers "Huskies", not provedëš′. She is exhausted, when fed that need to please others.

Me bored with you, because you do not show yourself, and pred″âvlâeš′ mask that your assumption should appeal to me. We have been working for a long time, I'm looking for the keys, we are preparing the soil, you're already pretty much changed in that part of his life, which is not related to the other. You have a rest after work, rather than a heel Paul a second time as Mama taught. And indeed, you are the perfect client. As much as you used to execute perfectly the role: daughter, Babe. The perfect tenant not their lives. And when you're all trying harder to drag me into this game, I'm telling you about it. No, I almost scream: "be, damn it, either! If! Though some … ".
You go the bewildered, and then come the evil: I'll disappoint you now tell me that actually think. Talk loud, evil, cynical, attacks, accusations, insult. It's hard for me to not take at their own expense, but this is addressed not to me. Look at you long, straight, you scream: "Yes you're gone!" and cry for the first time.
And I see the real you, your disappointment, expectations ruined, expectation that will love, if you're still barely naprâžeš′sâ, anger that have step by step betraying yourself from culinary preferences to deeds, destiny. And I stand with you and breathe. And listen to you, and remind breathe and hence cushion when a new wave of anger, and napkins, when resentment and a lot of tears and bubbles. Then you say a long time remember, cry, I listen.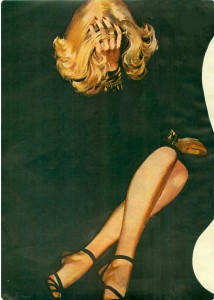 Now you tell me what you like and what's not in our work. And your colleagues you too can tell if something is wrong. While blushing and stammering, but you can. Anyway, what do you think nonsense, and what agrees. Asking questions, ask for what you want.
You've got to ask: does the person need to send, to become with him myself? And I say: "it is necessary that your well-being was for you is more important than someone else's liking. If all you have to do is send, well, means now. "you say," Yes you go! "and laugh in response

P.s. in all the articles I do client unrecognizable. This is often a collective image, scraps of thoughts, feelings, reactions and processes different people or very old clients. Ecology is important for me to get